Ingredients: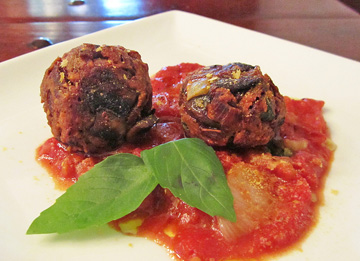 14-16 oz. white or Baby Bella mushrooms medium-fine chopped
One medium red onion and 2 cloves garlic (optional) finely chopped
One can (12-15 oz.) of either red kidney or garbanzo beans (experiment with different beans)
1 Tbsp. of miso paste (brown or red)
1 Tbsp. apple cider vinegar
Vegetable stock
3 Tbsp. of nutritional yeast
1 Tbsp. tomato paste
Half cup wheat gluten or brown rice flour ( gluten free)
Spices (add what you like)- ½ tsp of: oregano, thyme, basil, red pepper , salt, black pepper
Combine mushrooms, onion/garlic, vinegar, nutritional yeast, miso, tomato paste, spices, and a few tablespoons stock in a non-stick (ceramic) pan. On medium-high heat, cook down stirring occasionally until mushrooms are reduced and onions become translucent. Set aside and allow mixture to cool for 15 minutes.

Drain can of beans and rinse with cold water. Combine in large bowl with ¼ cup vegetable stock. Hand mash and add cooled mixture and combine well. Add wheat gluten (or brown rice if you prefer gluten free) and fold in until combined (mixture firms up – try not to overmix).
Scoop with tablespoon and form into balls about 1.5 inches in diameter – makes about 20-22 balls. Place on parchment paper on baking sheet. Cook in 375 degree preheated oven for 18 minutes. Turn each ball on side and cook an additional 10 minutes. Turn once more and cook a final 10 minutes. Let sit 5 minutes before serving. You can combine with your favorite low/nonfat sauce.